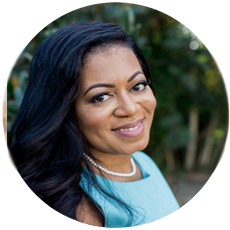 Dr. LaTasha Carter
Entrepreneur | Therapist | Life Coach | Author | Speaker
CEO of GoldStar Counseling & Wellness Center, a division of Therapeutic Connections, PLLC
Dr. LaTasha Carter is the CEO of GoldStar Counseling & Wellness Center, a division of Therapeutic Connections, PLLC., in Greensboro, North Carolina. In addition, she is a life coach, entrepreneur, author and motivational speaker committed to empowering individuals and families to overcome difficulties, move forward, thrive and live a purpose driven life. In the past decade after working with adults, children, couples and families dealing with trauma, Dr. Carter chose to focus her services on trauma therapy and has affectionately dubbed herself as the trauma therapist.
Dr. Carter has encountered many people who have experienced life altering circumstances and she has approached each one of them with the same compassion. She specializes in the assessment and treatment of acute and chronic PTSD, panic attacks, anxiety, depression, addiction, grief, and relationship therapy. She also utilizes a blend of cognitive behavioral, client-centered therapy as well as EMDR, DBT and elements of multi-level communication. She believes that through client-centered therapy, individuals can flourish after traumatic incidents with constructive coaching and counseling that provide them with pathways for progress.
Dr. Carter has a Masters of Social Work, she is a Licensed Clinical Social Worker (LCSW), received a Honorary Doctorate of Humane Letters from CICA University, Licensed Clinical Addiction Specialist Associate (LCASA) and a Certified Sex Offender Treatment Specialist for juvenile and adults (CSOTS).
Book Dr. Carter for your next event!
Women's Conferences, Workshops, Interviews, Group Sessions, Panels, Intensives, Seminars & more!
Book Dr. Carter
Hire Dr. LaTasha Carter for:
Mission
To be a powerful voice of advocacy, empowerment, and change for individuals seeking to address traumatic and addiction challenges.
Core Values
Empowerment, Excellence, Inspiration
Vision
To be recognized as a world renowned speaker on trauma and addiction therapy.