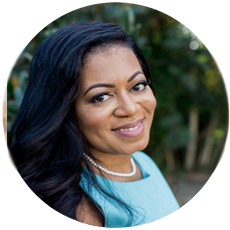 Dr. LaTasha Carter
Entrepreneur | Therapist | Life Coach | Author | Speaker
CEO of GoldStar Counseling & Wellness Center, a division of Therapeutic Connections, PLLC
---
Dr. LaTasha Carter is the CEO of GoldStar Counseling & Wellness Center, a division of Therapeutic Connections, PLLC., in Greensboro, North Carolina. In addition, she is a life coach, entrepreneur, author and motivational speaker committed to empowering individuals and families to overcome difficulties, move forward, thrive and live a purpose driven life. In the past decade after working with adults, children, couples and families dealing with trauma, Dr. Carter chose to focus her services on trauma therapy and has affectionately dubbed herself as the trauma therapist.
Dr. Carter has a Masters of Social Work, she is a Licensed Clinical Social Worker (LCSW), a Licensed Clinical Addiction Specialist Associate (LCASA), she also received a Honorary Doctorate of Humane Letters from CICA University and a Certified Sex Offender Treatment Specialist for juvenile and adults (CSOTS).
Fellowship of the Most Excellent Order of International Experts Award:
Expert in the field of Social Work
---
DR. LATASHA CARTER IS AVAILABLE FOR:
Women's Conferences
Churches
Workshops
Panel Discussions & Seminars
---
FEATURED SPEAKING TOPICS:
Life After Pain: How to Bounce Back & Stay on Track
The Balancing Act: Working & Motherhood
---
Schedule a Free Phone Consultation:
Hire Dr. LaTasha Carter for:
Transformation 360: Coaching & Personal Development
Individual, Couples & Family Counseling
Book Dr. Carter for your next event!
Women's Conferences, Workshops, Interviews, Group Sessions, Panels, Intensives, Seminars & more!
Book Dr. Carter